Ah, what a nice week it has been so far. And, I do not mean the weather. That's been nice too. Cold, but nice, the way it is supposed to be in November.
But, such a nice week. We've had fires in the fireplace. We've started talking holiday plans, made some reservations for a weekend away with our best friends, and yesterday afternoon, I got to sit next to my dear sweet friend Miriam Kronish at our little Broadway Musicals class in Orleans. Together, we shared our love of the genre with a special treat of my all time favorite "
Cabaret
". We both know it is so much more than an entertaining dramatic piece. It's positively brilliant and loaded with metaphors.
Sometimes, I can't believe I'm even in the same room with Miriam. She's famous. A retired school principal from a huge Boston area system, she's won awards, given lectures worldwide, and there isn't anyone who's ever taught anything in this state who does not sing her praises. She's the high priestess of education and there is not one thing that she does not know. And she loves me. She tells me that all the time. My own Mrs. Rogers in my own neighborhood. I save her a seat at the Broadway class and she, me at the Friday documentary class where we oftentimes look at each other, and raise and eyebrow or two when we hear a comment that shows traces of intolerance of prejudice. We're both native New Yorkers and we find ourselves on the same page lots of the time. Miriam is older than I but time eludes her. "Oklahoma" was the first show she saw as a child. She's a kid's kid and she won't sit down, especially when there's music in the air.
We met last winter in Ira Wolfson's (he's another of my super-heroes) class on Holocaust Literature. There were three of us in that class. I suppose the title scared a lot of other potential intellectuals off. When I told friends that I would be enrolling in the course, given by the Academy for Life Long Learning, I heard the strangest remarks. "Why?" was the overriding theme. "Why not?" was my constant answer. I was drawn and I followed and never regretted it for one moment. It wasn't long into the course that I realized that destiny had played her hand and my meeting Miriam was not a simple coincidence. It was that part of my life that had been missing that she gave so generously. Week after week, for three months, Ira, Miriam and I read, discussed and shared views. Miriam knew the exact gaps that needed filling in my knowledge and understanding of that period in time. It mattered not that I was raised a Christian, a Catholic girl who only knew one side of my family. The other side, unexplored and mysterious. I had a sense, and still do, that Ira and Miriam knew more about my heritage than I. Someday, I'm going to find the answers.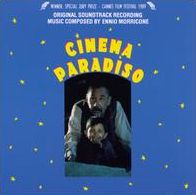 Last night, Joe's Italian Literature book club met for an unusual evening. Instead of discussing their current read, they met at the home of one of their members for dinner and a movie. I was invited to join them. This is a lovely group of people who gather once a month and share their views on what they have read. They don't tackle easy reads, everything is a challenge, but they seem to love the choices. After dinner, we sat down together and watched "
Cinema Paradiso
", another of my all time favorites. Such a beautiful movie. Gorgeous music and the best ending of any movie, ever. I cry every time I see it. A little boy, and his beloved mentor, Alfredo. The movie house in the center of the town.The slices of lives, rich with meaning. The film is a collection of perfect metaphors on life and times. As I age, I "get" life so much more, just as did Toto, the boy who's life we view from childhood to age 48. In the end, we see him as the sum of the parts, a grown man who never went back, just as intstructed by Alfredo.
Life is filled with mentors. People are out there, ready and willing to show us the way. Sometimes, we get lucky and we locate our mentors and metaphors and figure them out before it is too late. Tomorrow, I'm back in New York, taking another writing workshop, just adding to the mix, one ingredient at a time.